Gosport & Fareham Interfolk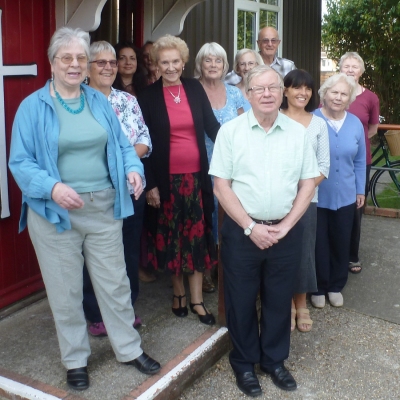 General International Folk Dancing
An Affiliated group of the Society for International Folk Dancing (SIFD).

Time : 10:15 - 11:15am Mondays (term time - phone for dates)
Place : St. Francis Church Hall, Clayhall Road, Alverstoke, Gosport, Hants
Contact: Tessa & David



The Gosport & Fareham Interfolk club provides an invigorating start to the week with an hour of dancing on Monday morning. It is a happy and sociable group who enjoy a wide variety of dances with moderate energy levels. We are always learning a new dance or revising an old one so beginners are always welcome. The group practise a mixture of international folk dances from sets to lines and circles (and canoes!).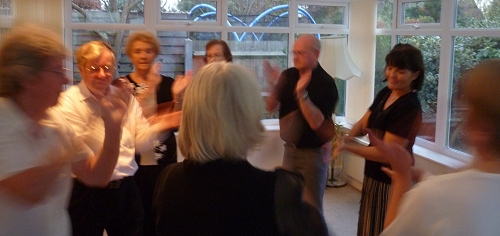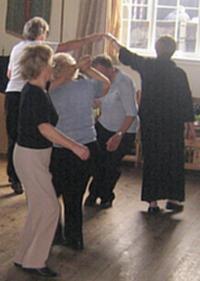 Everyone in the group is challenged to 'adopt' a dance from the current repertoire, to learn it thoroughly, study the steps, listen to the music and hopefully feel able to teach/lead it if necessary. Traditional dances are passed on as seen, felt and perceived by a younger generation; there is no need for years of arduous physical and/or technical training to lead a folk dance.

We usually have a Christmas Party, and try out candle dances from around the world, but apart from a couple of forays out in the past to Tamar House (2011) and a talent show (2007) we are not geared up for displays. However, all are free to don costume and travel along the coast a bit to join the BRIDE displays - see Ann and David with Janet (below).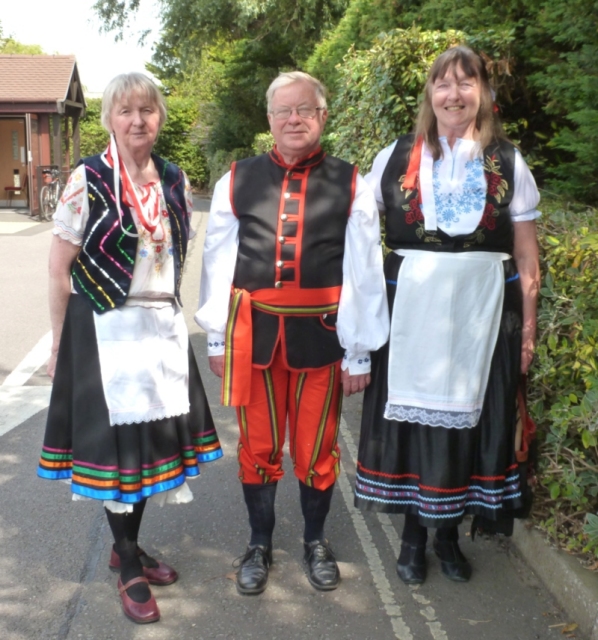 ---
Repertoire
Over the years quite a number of folk dances have been done but they are not all current at any one time. The following list is some of the folk dances you are likely to encounter at the moment if you visit our club.

Dances which are done in sets include:
Meillionen (Wales), De Vleegard (Holland), De Kolom (Belgium), Trommevals (Denmark), Le petit Montferrine a quatre (Switzerland), Holborn March, Childgrove, Upon a Summers Day (England), Zagrodnik (Poland), Drailingas (Lithuania)

Couple Dances which are done in a circle include:
Clwdd (Wales), Oiga ja Vasemba (Estonia), La Storta da Cruce (Switzerland), Notchka (Russia), Arrosciado (Italy), Erva Cidera (Portugal), Dal Johans Waltz (Sweden), Tea Pickers Dance (Taiwan)

Dances which are done in lines and circles include:
Kerimoglu (Turkey), Jianul (Romania), Bannilou Lambaoul (France), Klezmer, Hora Hassidit, Ashrei Haish (Israel), Dagh Gorani (Armenia), Letel Golub, Simushka, Pivna Yagoda (Russia), Kumanovka (Macedonia), TaiTai (Greece), Hora lui Dobrika (Romania), Valle Dardhare (Albania)

Dances which should be done in a canoe include:
Lago Sopu Sopu (Molluca)


---
How To Get There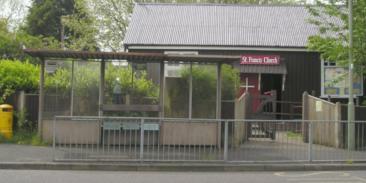 St. Francis Church Hall, Gosport
By Bus from the Gosport Ferry catch the number 30 which stops outside the hall.

By road from the centre of Gosport follow the signs to the Haslar Hospital, crossing the bridge to pass the hospital and at the t-junction, turn right into Clayhall Road.
By road from Fareham, follow signs to Stokes Bay, the road will turn left at the sea and lead into Clayhall Road.

---
Gosport & Fareham Interfolk People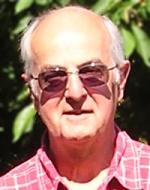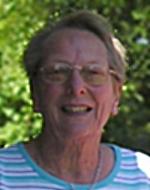 David and Tessa Bloodworth

Tessa combines the duties of Treasurer and Secretary delegating the position of Chairman to David. They are proficient dancers who organise the group and carry out all the tasks needed to ensure its smooth running.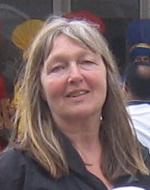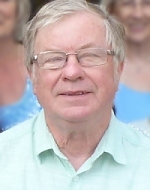 Janet Douglas and David Atkins

Janet and David lead the dances on alternate weeks, with much the same dances.




---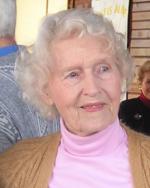 Maggie Head
The History of the Club

The Gosport and Fareham International Dance group was founded by Maggie Head over forty years ago as two keep-fit classes. She originally trained as a Keep Fit instructor, discovered International Folk dance and realised that there was a good link between the two. She increasingly used international folk dances as part of her classes until eventually the dancing took over! She was in her eighties when she retired from teaching International Folk Dance, but continued English Folk Dancing until a few days before her death in September 2014.



Janet Douglas took over the class with the professed aim of encouraging members of the class to take on the leading of some dances. David Atkins has managed this and has begun to share the class; hopefully more will follow his lead!